Following Stage 1 construction of Hinze Dam in 1976, a 14km bulk water pipeline needed to be installed, so large amounts of water could be transported from the dam's intake tower, via a pumping station to the Molendinar Water Treatment Plant.
Mr Francis was 60 years old when he was employed by Gold Coast City Council in 1981, as one of the head contractors on the Hinze Dam to Nerang Pipeline Project.
The work would take two and a half years to complete and involved welding more than 14km of bulk water pipeline from the dam to the treatment plant.
The project became a father and son effort, with Mr Francis' son, John Jr, assisting as a 15-year-old apprentice boilermaker.
"It was three years of laying pipe though some of the most difficult terrain I've ever come across: through creek crossings, hills – even a banana plantation," John Jr recalled.
"Even though it was one of the most challenging jobs dad and I ever did, it was also one of the most enjoyable."
John Jr said that up until his father's passing in 2017, the pair would reminisce with pride and nostalgia about the Hinze Dam to Nerang Pipeline Project.
The fact that we contributed to building such a vital piece of infrastructure – and that decades later the work we did back then still holds up today is something to be very proud of.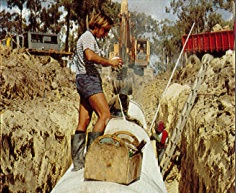 To recognise and celebrate the work undertaken by people like John Francis Sr in delivering the pipeline, a historical board has been installed along the Hinze Dam wall.
Friends and family of Mr Francis recently gathered at Hinze Dam for the official unveiling of the commemorative board, which overlooks the pump station that connects to the Molendinar Water Treatment Plant.
Seqwater Manager Operations Southern Region, Joe Meissner said he was pleased to have been able to secure this missing chapter of water supply history.
"The installation of this historical board came about following a phone call I received from John Francis Sr's wife, Margaret," Mr Meissner said.
"Mrs Francis pointed out that while there was a lot of information boards about the dam, there was nothing about the pipeline her husband had a hand in building.
"The early 80s is becoming our modern history, so it's great to be able to shine a light on this important piece of work and preserve the memory of John Francis."
As of 2018, the water treated at the Molendinar Water Treatment Plant supplies a population of more than 560,000 Gold Coast residents.
The Molendinar Supply Pipeline can transport about 150 million litres per day to the water treatment plant.