The SEQ Water Grid allows us to move treated drinking water around the region. This is especially important when patchy rainfall leaves some areas with full dams and other parts of the region with lower dam levels. The Water Grid can supplement but not completely replace local water supplies.
The SEQ Water Grid is a bulk water supply network of:
12 dams
32 conventional water treatment plants
3 advanced water treatment plants
1 desalination plant
28 bulk water reservoirs
22 pump stations
600km+ of bulk water supply pipelines.
We also supply drinking water to 53,000 people living in 16 off-grid communities. The water for these communities is sourced and treated locally, then distributed to households and businesses.  
View a map of our SEQ Water Grid and off-grid water treatment plants.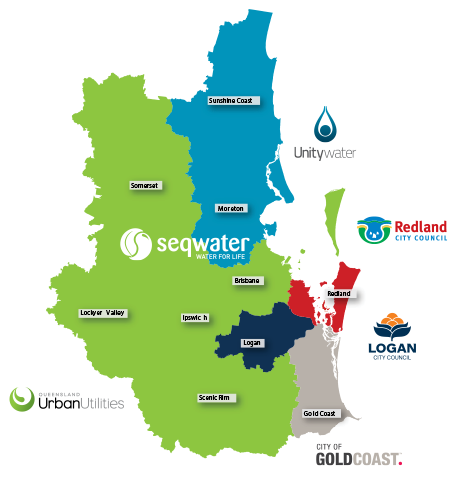 Your local water service provider
Seqwater is the region's bulk water supply authority. We source, store, treat and supply bulk drinking water through the SEQ Water Grid for distribution to your tap. 
The supply of water to your home is delivered by your local water service provider and council water businesses.
Read about our strategic vision for holistic and integrated water cycle management in our joint Water for SEQ Annual Report.