Ewen Maddock Dam upgrade
Ewen Maddock Dam is located near Landsborough on the Sunshine Coast. The dam was constructed across Addlington Creek, a tributary of the Mooloolah River. Construction of the dam was completed in 1976 and the full supply level (FSL) was raised in 1982. 
 
Following the independent dam safety review in 2010, a number of improvements were identified at Ewen Maddock Dam and approved for delivery. The upcoming work will be undertaken in two stages. The first stage (Stage 2A) will include strengthening the existing embankment and increasing its floodwater capacity.  This will be followed by planning work on the spillway in 2021 (Stage 2B).
Ewen Maddock Dam upgrade (Stage 2A)
To undertake the upgrade safely the lake's water level will need to be lowered to about 60 per cent of its full supply level.  The new staged approach will reduce the amount of time water levels are lowered and also minimise the duration of closures to the lake's recreation areas.
Construction on Stage 2A began at the end of March 2020 and will involve raising and strengthening the existing embankment walls with significant improvements to the recreation area. This stage is expected to take 18 months to complete, subject to weather and site conditions.  
Recreation
For the safety of the public, all on-water recreation, access to the designated swimming area and the recreational use of Maddock Park were closed on Monday 30 March 2020 for the duration of the Stage 2A work (up to 18 months). Seqwater has recently modified the access points to the multi- use trails to ensure the trails can remain open during the upgrade. The project has also invested in rejuvenating the wetlands picnic area on Steve Irwin Way, the wetlands will remain open for recreation throughout the upgrade.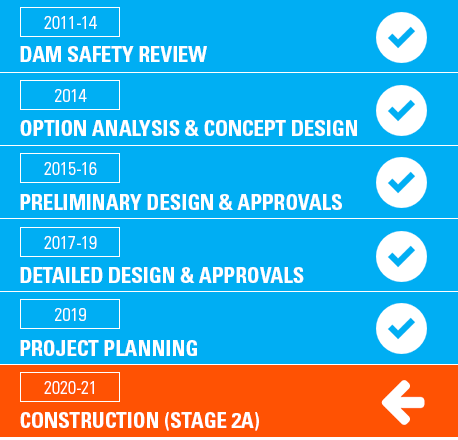 News and updates
Key documents
Background information
In 2012-13, Seqwater commissioned an independent review of our 26 referable dams, which found improvements are needed at a number of our dams to meet the Queensland dam safety guidelines into the future.

We have prioritised a program of dam upgrades in a staged approach to give us time to scope, design and plan, while maintaining public safety, security of water supply and delivering best value for money.

Ewen Maddock Dam is one of a number of dams in South East Queensland scheduled to be upgraded as part of our regular ongoing maintenance. -

Ewen Maddock Dam was built in two stages in 1976 and 1983 across Addlington Creek, a tributary of the Mooloolah River. Located on the Sunshine Coast, Ewen Maddock Dam is part of the SEQ Water Grid.

In 2012, stage one upgrade at the dam involved the installation of pressure relief wells along the left abutment of the dam wall, and construction of a 1.5 metre weighting berm on the downstream toe area.