Seqwater public safety app
The Seqwater public safety app makes it easy to get information about dam releases, dam levels and updates on recreation in South East Queensland.
The refreshed app has:
Latest dam levels (including historical data)
Alerts on water releases from Seqwater gated and un-gated dams
Recreation and safety notices for Seqwater public access sites
Search the Interactive recreation activities map
Clickable contact directory for emergency services
Customised alert settings
The app is compatible with most smartphones, and now has offline compatibility.
Feedback and improvements
Please email [email protected] if you need assistance or have any feedback.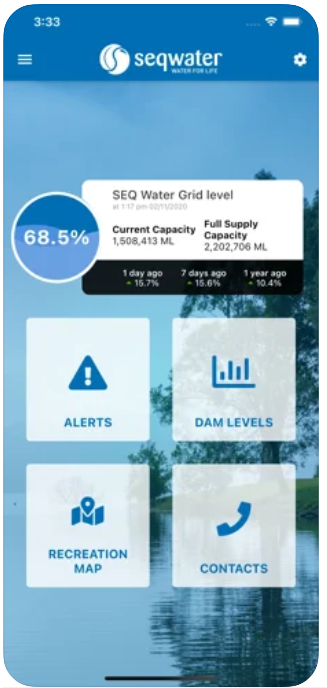 Privacy collection statement
Seqwater collects personal information for the purposes of ensuring water supply to South East Queensland, managing catchment health and providing recreational facilities to the community. Our Privacy Policy outlines how we usually collect, use and disclose your personal information, how you can request access to it or seek correction of it. We may disclose your personal information to service providers for purposes related to providing you with this notification service. Our Privacy Policy also contains information about how you can make a complaint and how we will deal with such a complaint.
If you have any enquiries or feedback regarding Seqwater's privacy practices, please contact our Privacy Contact Officer:
PO Box 328, Ipswich QLD 4002 
Phone: 1300 737 928
Email: [email protected]